In conversation with Dr. Ankur Joshi
Dr. Ankur Joshi is working as Assistant Professor at the Faculty of Management Studies-WISDOM, Banasthali Vidyapith.
He is also visiting faculty at Vrije University, The Netherlands for the program on Integrative Spiritual Care. He is a Fellow of MDI- Gurugram in Public Policy and Governance, where he did doctoral research on the Gurukul education system and its insights for improving the quality of education in Bharat.
At Banasthali Vidyapith he contributes as a Researcher with OMRISE Research group formed at Banasthali in collaboration with Buurtzorg and Praan Group from The Netherlands. He has developed online modules for Online Refresher Course in Management and is co-coordinator projects carried out under the National Center for Corporate Governance and National Resource Center at Banasthali Vidyapith.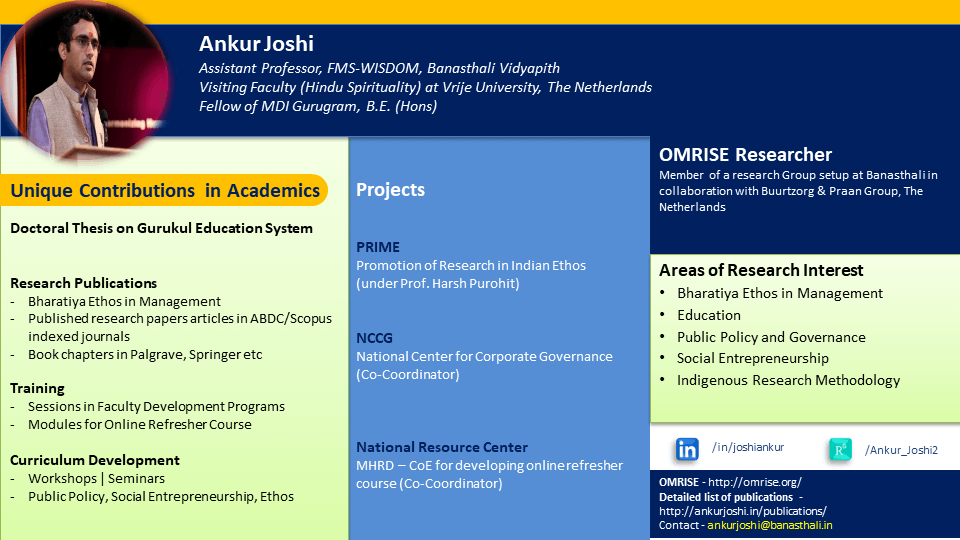 He also works under Prof. Harsh Purohit for the project on Promotion of Research in Indian Management and Ethos. He has also conducted various training sessions for teachers, civil servants, and students. He has conducted various training programs for teachers, civil servants, and students at HRD Center of Delhi University, Police University in Rajasthan, MDI-Gurugram, etc on themes like Indigenous Research, Bhagwad Gita, and Leadership, Public Policy and Governance, and Innovation in Content and Pedagogy of Education. His teaching interests are in courses like Indigenous Management Systems, Indian Ethos in Management, Social Entrepreneurship, etc. He has published about 15 papers and book chapters in indexed journals and publishers like Springer, Palgrave, etc.